I'll try to post in brief everything that I've missed in the last few weeks! Since the last BUMPdate I had a couple of tests done on my heart. The first was a Holter monitor that I wore for 24 hours and the second was an echocardiogram. I had both of these tests done three years ago when I was pregnant with Oliver and they told me I have pregnancy induced synus tachycardia. Basically the synus node in my heart misfires and causes my heart to race for no particular reason. This time around they found another arrhythmia that is not considered "normal" and I'll need to have further testing done with a specialist after the baby is born to get a better idea of what's going on. The cardiologist said that the chances of catching this arrhythmia on a 24 hour monitor are very low since it's something that could only happen every couple of years. Obviously it's been much more frequent for me and I think that has to do with being pregnant. I may end up needing an atrial ablation (heart procedure) to correct the electrical tissue in my heart once Harper is born. Only time will tell I guess! Until then he assured me that the condition is not dangerous for me or baby unless my heart rate stays above 150 resting for several weeks. That's a relief! I've never experienced a heart rate that high for more than an hour so I was really happy to hear that!
Baby Harper is growing well and looking very healthy still! We had a 3D ultrasound at 29 weeks and in the pictures she looks just like little Carter! We'll see if that's true once she's born! One thing is for sure...she's beautiful and we can't wait to meet her!
32 WEEKS
or
Sleep is getting a little rougher these days between insomnia, being uncomfortable, and running to and from the bathroom! Every few nights I get a really good night of sleep because I'm SO tired, but if I'm not dead tired forget it! During the day I'm not too uncomfortable yet and I don't think I feel as big as I really am yet. Sometimes I forget how big this belly is getting and it shocks me a little when I look in the mirror or see a picture. I do love this belly though and I will miss it when it's gone!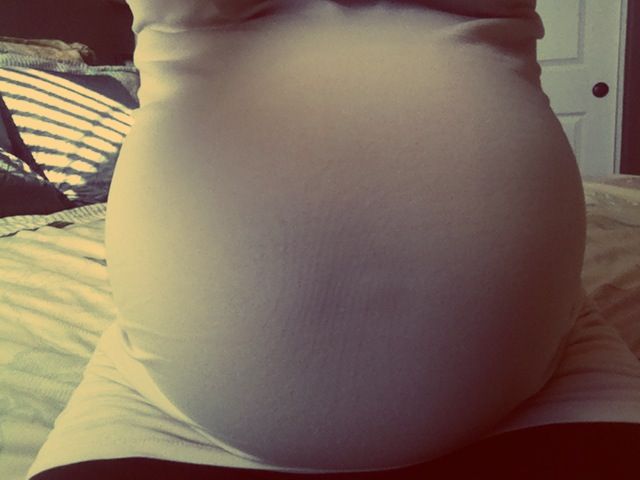 BAM!!!
Harper is a crazy active little girl! Oh my goodness...my boys never moved as much as this girl does. She's always poking her feet out into my sides and moving her booty from one side to the other. I'm pretty certain that she's head down all of the time now and she's definitely sitting super low! I don't know where she's going to go (besides out) when she "drops" before labor.
I've totally packed on some pounds these last few weeks! Yikes! I'm up 23 pounds so far and I'm hoping it doesn't go up much more before she's born. If so, oh well I've always lost the baby weight pretty quickly after so I know it's only temporary.
I don't know why but I really feel like she'll be here around 36 or 37 weeks...that's only 4 or 5 weeks from now!!! Yikes!! I can't wait to meet her but that's coming up quick! We need to get into baby mode here soon....
33 WEEKS
or
8 MONTHS 1 WEEK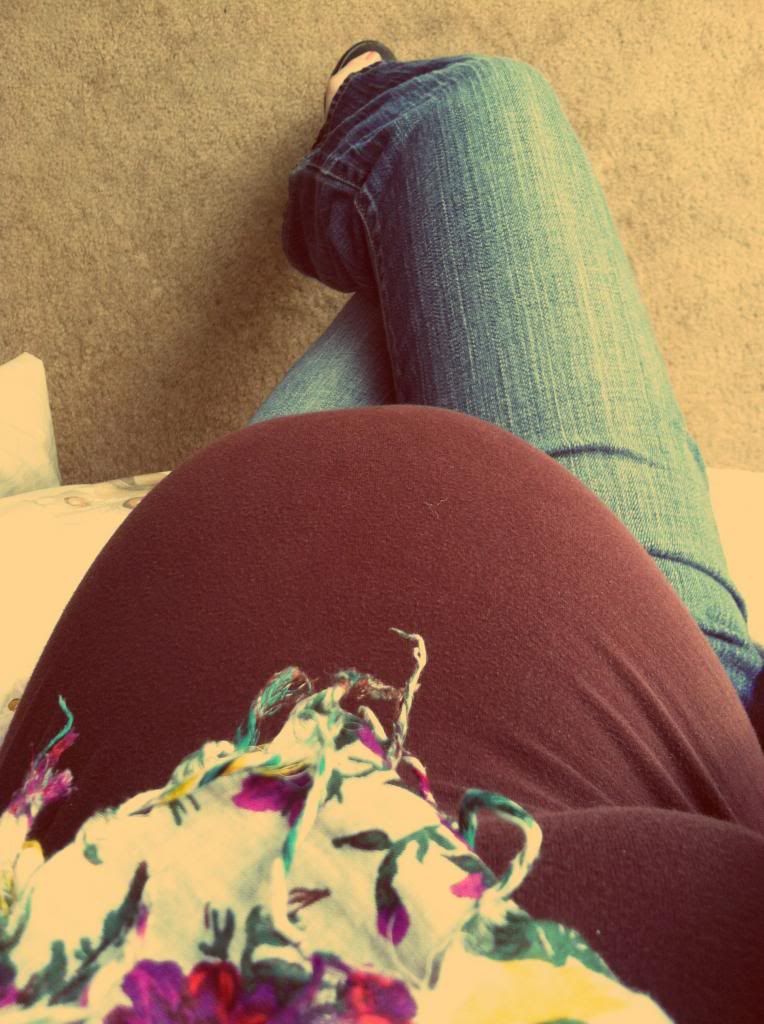 We had a doctor's appointment yesterday! Complete with an ultrasound and everything...
The picture we got wasn't very good because she had her umbilical cord all bunched up in front of her face, but the ultrasound tech said she has plump perfect little lips! You can see her nose and lip in the picture above...and they look very similar to her older brother Oliver's lips! We'll see what she looks like when she's born! Harper is also measuring on the smaller side! I was a little surprised at how tiny she was...with both of my boys I had a 32 week ultrasound and they both measured at over five pounds. Harper is only measuring in at about three pounds but the doctor said she's perfectly healthy and there's nothing to worry about. He also said she has a tiny head...that's what Mama likes to hear!! :)
I gained no weight in the last two weeks which I am really very shocked about! So far I'm up 23 pounds and I'm hoping it doesn't get too much closer to 30 in the next few weeks! We shall see...
Carter was born at 37 weeks exactly so the thought of her being here in a month is crazy and really exciting! I am completely aware that every baby is different and that she could be late, but my body is already gearing in that direction (don't worry, not dangerously) I can just tell. We're getting all of our last minute baby preparations done, my baby shower is the beginning of next month, so hopefully we'll be done by the time she arrives. I should probably start thinking about packing the bag for the hospital so I don't rush last minute and forget anything.
She is quite the shelf these days....holds lots of great things like coffee, food, my boys....quite convenient! :) I really will miss this big ol' belly when it's gone but then again I'll have a sweet little newborn to cuddle so really I won't be too sad about it. We're really excited to meet our daughter!