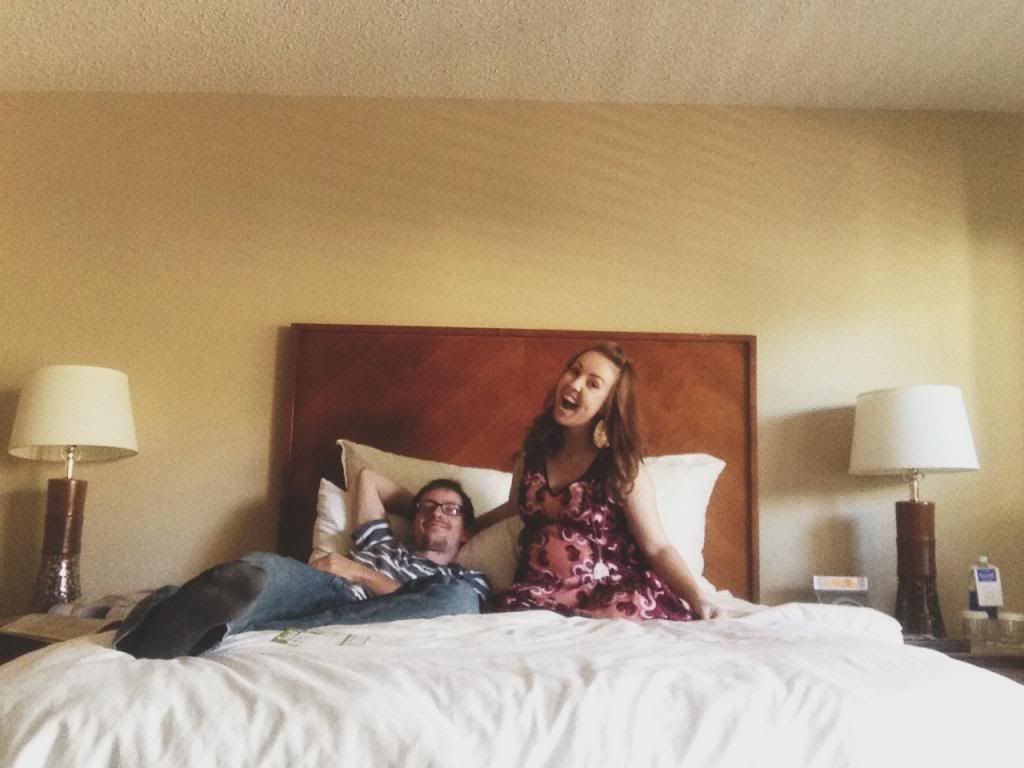 For the first time since having kids Kaleb and I were able to escape away for the weekend thanks to Kaleb's work for the amazing resort gift card and to my family for taking all three kids for two days! We went up to
Sycamore Mineral Springs
and enjoyed a lovely little room complete with a jacuzzi mineral tub on the balcony. Don't worry, I didn't go in much further than my knees because we don't want a "hard boiled Sawyer". Kaleb laid in there forever and loved it!
After relaxing in our room for a bit we wanted to get out and explore Sycamore to see all that it had to offer. They have a couple of really pretty garden areas, one with a gazebo, and lots of pretty trees.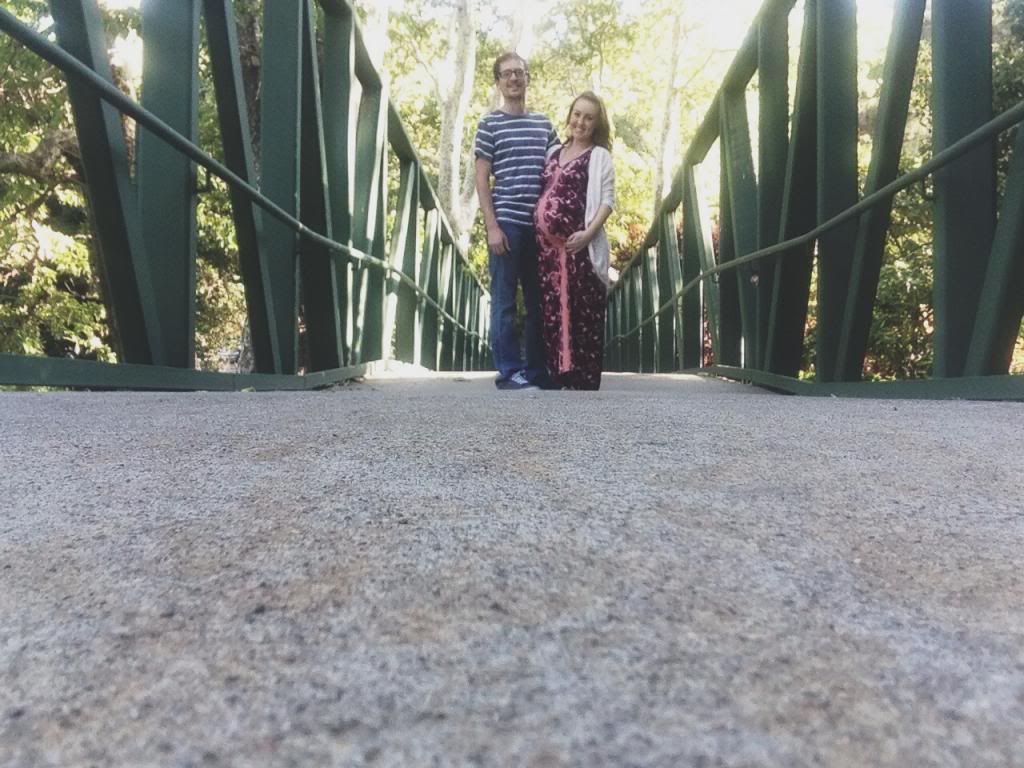 There's a pretty bridge that connects the resort to a paved path that leads out to the ocean.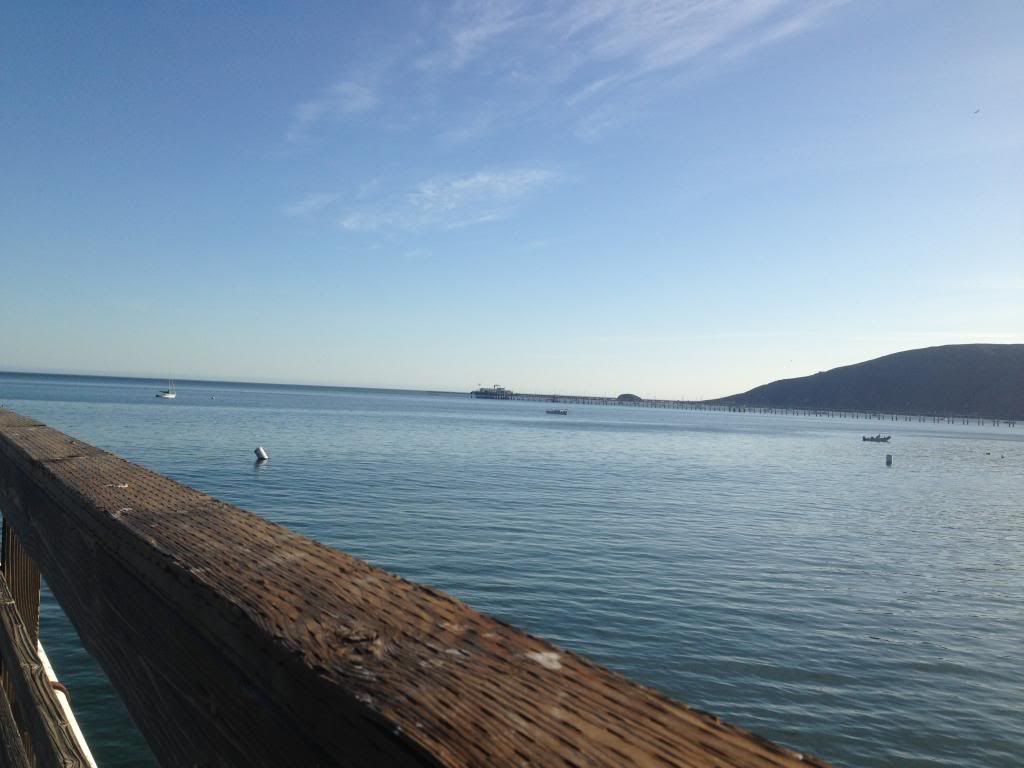 We headed over to the beach since it was the night of their farmer's market. It was super warm even at 6 o clock in the evening and there was absolutely no wind. Kaleb got himself a bag of kettle corn (which he spilled all over the sidewalk in front of everyone and it was really funny) and we hung out in the shade until our table at
The Custom House
was ready.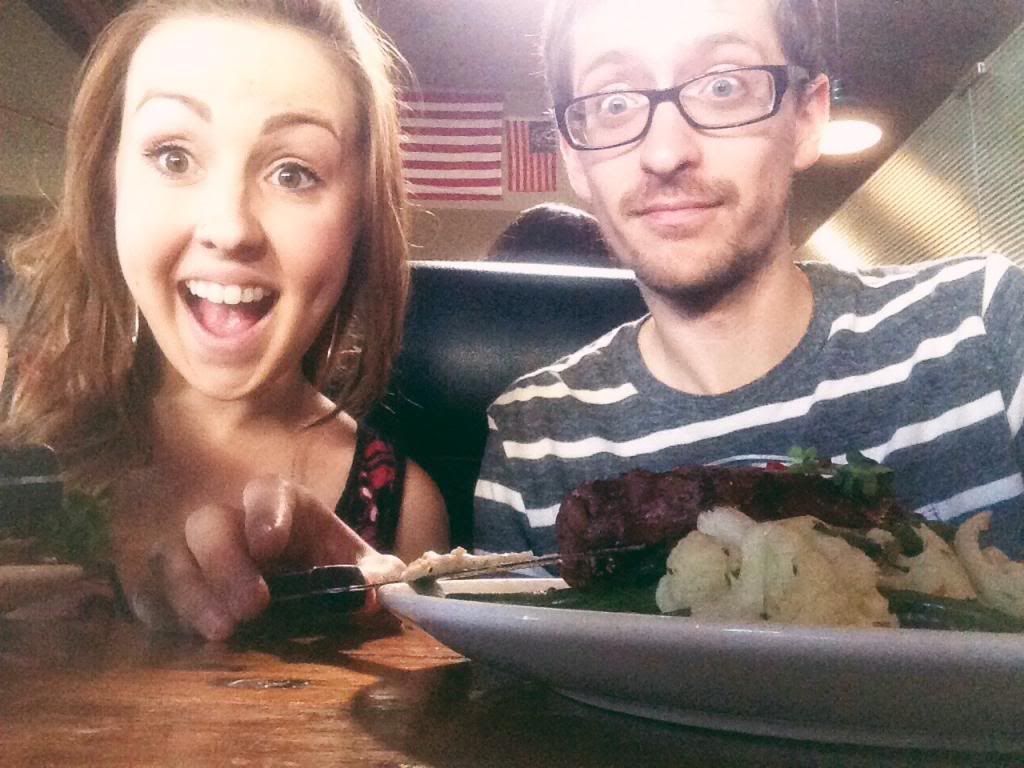 Kaleb got a steak that he was absolutely drooling over and I got a sandwich called "The Sunburst". We would highly recommend both dishes!! The food was SO GOOD!
The next morning we got up (after sleeping in) and rented bikes to ride out to the beach! It was so fun and the weather was perfect for it. We had lunch...
...grabbed some coffee at a local coffee shop and some ice cream...
...and took an awesome awkward photo bombed picture.
We decided to ride back to the hotel but on the way back my bike pedal fell off completely as we were riding which was hilarious even though I had to push my bike back the rest of the way and I definitely almost peed my pants laughing about it with Kaleb.
Naturally, with the warm perfect weather and all it was time to lay by the pool. Kaleb napped while I attempted to get a little bit of a tan and we swam a bit which was really fun because we had the pool all to ourselves. I seriously love hanging out with my husband.
Swimming while pregnant is so weird. I'm not used to feeling weightless and it felt really weird when he started wiggling around. I also don't know how people swim laps when pregnant seeing that my body just wanted to sink to the bottom!
That evening we went up to SLO for coffee and a little bit of shopping. Baby GAP was having a huge sale so, of course, I got stuff for Harper. The girl clothes are irresistible!
There had been a brush fire right next to the freeway that had the southbound side of the freeway at a complete stop and backed up for miles. We saw it on our drive up and decided to avoid it completely by taking back roads back to our resort. This led us by a fancy little restaurant that we had been to once before and had always wanted to revisit. We stopped there for dinner and watched the sun set over the ocean while we waited for our food. It was so pretty! Speaking of the food...
it was amazing! I got the chicken saltimboca and Kaleb got a rib eye steak. My dish was so good! Kaleb kept stealing bites. :)
The next morning we slept in a bit, took our time getting ready, and then decided we'd try to make it back for church. We grabbed coffee and a quick breakfast and made it just in time! We got to surprise the kids by picking them each up from Sunday school which was super fun to do. Harper was absolutely shocked to see me and started squealing as soon as I picked her up. Her hugs and cuddles are so precious! I definitely missed her while we were gone! Until next time....whenever that will be...I seriously cherish every memory that was made this last weekend. I love my husband so much and it was amazing to get to spend so much time with him. I am very blessed!