October 2013
We started the month out with a trip to Disneyland! And it happened to be Kaleb and I's 7 year date-iversary. It was really fun to celebrate with all of our kids at the happiest place on earth! So many good memories of our dating days to reminisce.
While Kaleb was in Japan on business for a week I surprisingly found out we were expecting baby number 4! Kaleb wasn't able to call me hardly at all so I had no idea when I'd be able to tell him so I emailed him...yah that happened.
We celebrated Halloween a couple of days early by going to our friend's Halloween party! It was so much fun...the boys got to decorate pumpkins and eat candy while the parents got to hang with friends, it was great!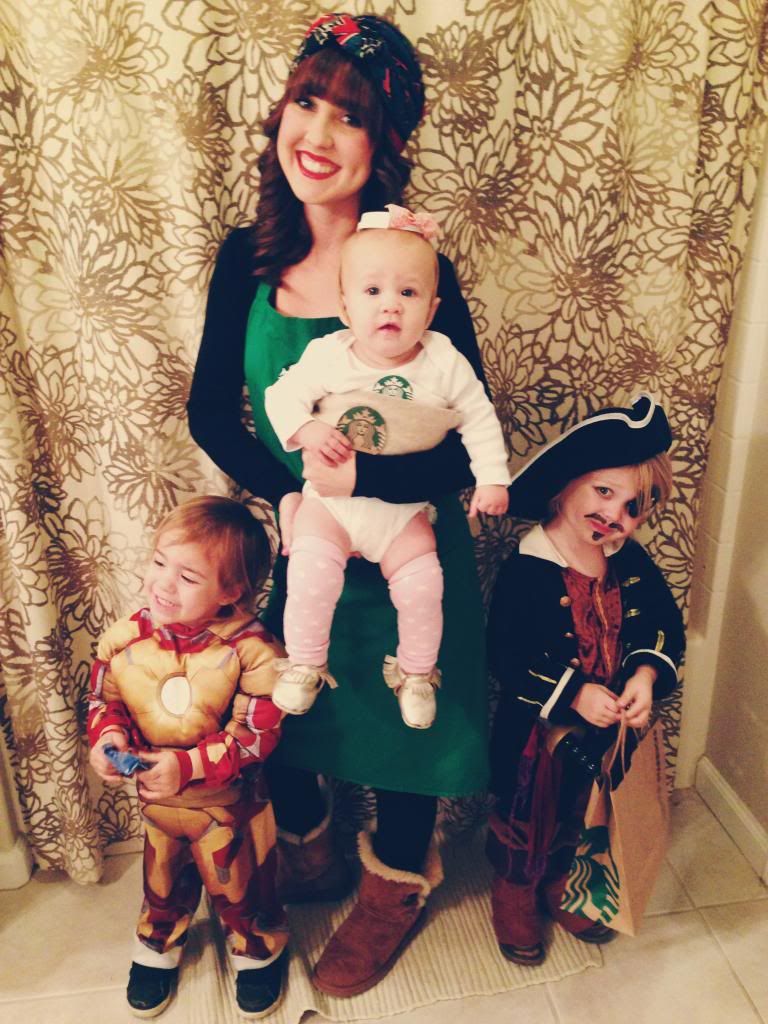 On Halloween we went trick or treating around our neighborhood with my family. Fun was had by all! Carter was Ironman, Oliver was a pirate (every year), and I was a Starbucks Barista with my little Harpy Latte.
November 2013
I set up a table for my handmade shop for the first time ever! It was so much fun and I sold a bunch of stuff! Eventually when I have more time I would love to do more of these types of events but for now I've closed up shop to focus on being a Mama. It was so hard to balance taking care of three kids and running a small handmade business.
My sister got engaged!!! Shes getting married in August to the sweetest guy named Lorin and we are all VERY excited!
Auntie KyKy and Uncle Lowin with all the kids.
We celebrated Thanksgiving with my family. Every year we go to my grandparent's house for lunch and we always really enjoy getting to spend that time with family.
The boys LOVE Disneyland and can't wait to go back again next year.
We got to see Kaleb's parents (Grandma and Grandpa Baker) and our niece Brooke for the holidays. Such a special treat since we hardly ever get to see them! We loved having them here for almost a month!
CHRISTMAS!! We did lots of celebrating with our little family, my side of the family, and Kaleb's side of the family. I love having so much family around to enjoy all of the holidays with! The kids really loved it!
My brother got married!! We were so excited to (officially) bring Ashley into the family and were super excited to gain another sister.
Here's a pic of all of us girls. SISTERS!
And one of our little family all dressed up (minus Harper who was being passed around to different family members. :) )
My sister Kylie, our dearest friend Brittany, and me. We had so much fun exploring! I wish we had more time up there.
Carter turned 3! We threw him a little Ironman party with my family and he loved every second! He was showered with love and lots of Avengers toys. You can imagine how happy he was.